Barbie Ballet Wishes Doll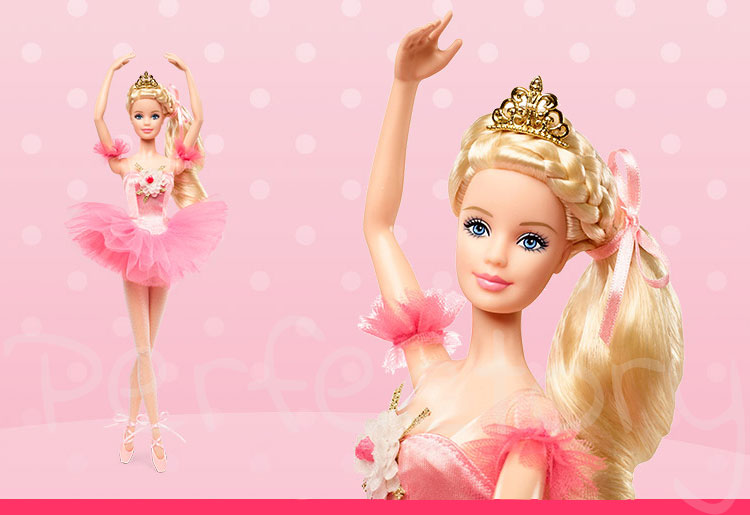 Barbie Ballet Wishes Doll – Gift this keepsake doll to celebrate a special performance by a budding ballerina!
Barbie Ballet Wishes Doll
Pink Label
Designer: Connie Tsai
Release Date: February 12, 2018
Ballet Wishes Barbie Doll returns to the spotlight for another captivating performance! The fifth doll in this special occasion series arrives in the online shop this month in a costume fit for a prima ballerina.
Created to celebrate all ballet dancers, Ballet Wishes Barbie Doll honors the hard work and dedication these talented artists put into their craft, at any age! A costume like this one represents the moment to which it's all been building – the honing of technique, rehearsals, and the quiet moments of courage before it's time to appear on stage before a room full of adoring fans.
For this Ballet Wishes Barbie, Designer Connie Tsai brought back a braided hairstyle, but instead of ending in a bun like the 2015 doll, the 2018 doll's hair flows out from the braids in an elegant cascade. She wears a layered pink tutu skirt and satin top with a beautiful flower detail on the upper bodice for her performance, and pointe shoes with laced-up ribbons to match. A shining tiara adds the finishing touch to this enchanting doll.
Ballet dancers of all ages will definitely appreciate a thoughtful gift of the 2018 Ballet Wishes Barbie Doll to honor all that they've achieved, or to celebrate a recital or big performance.
Congratulations to all ballet dancers! Dedication, hard work and rehearsing have all led up to this exciting moment right before the big performance. This beautiful Ballet Wishes Barbie Doll is ready for the big day featuring a ballet ensemble with layered tutu skirt and satin top. Additional details include a flower detail on the upper bodice, braided hairstyle with tiara. Pointe shoes with laced up ribbons are the finishing touch. May Ballet Wishes Barbie doll commemorate this special occasion, and inspire many happy memories from the big performance day. Includes doll, doll stand and Certificate of Authenticity.
Body Type: Articulated Collector Ballerina
Brand: Mattel Barbie Signature
Doll Designer: Connie Tsai
Facial Sculpt: Mackie
Fashion: Ballerina dress, tulle armlets, hair ribbon, tights, lace up ballet slipper, gold tiara
Label: Pink
MPN: DVP52
Original Price: USD $25.99 each
Year: 2018
Leave a comment