Barbie Fashion Model Collection Elegant Rose Cocktail Dress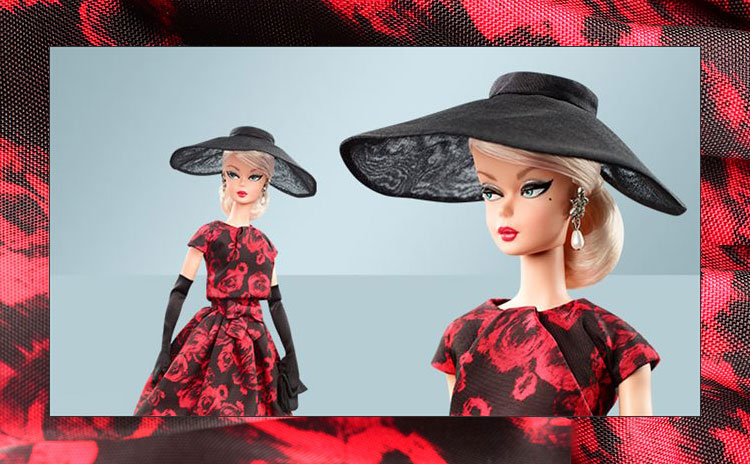 Elegant Rose Cocktail Dress Barbie Doll
Barbie Fashion Model Collection
Gold Label
Designer: Robert Best
Release Date: February 5, 2018
The 2018 Barbie Fashion Model Collection begins with an introduction to the BFMC Elegant Rose Cocktail Dress Doll! Featuring the articulated Silkstone doll body, this Barbie doll makes a sophisticated statement to start the series.
If you're not familiar with the Barbie Fashion Model Collection, you're in for a treat. The BFMC is the epitome of haute couture, the greatest expression of Barbie style for adult collectors. Since 2000, Barbie Signature Principal Designer Robert Best has unveiled runway-ready looks that any creator of life-size fashions would be proud to display on the catwalks in Paris, Milan, London, or New York.
Previous collections in this long-running series have taken their inspirations from Italian weddings to Hollywood movie sets, and reflected fashion trends in London, Moscow, Paris, and Palm Beach. For the past few years, the focus has been on "The New Classics" – celebrating the timeless elegance of classic couture while adding a contemporary twist.
Barbie Fashion Model Collection Elegant Rose Cocktail Dress Doll embodies that aesthetic, wearing a chic two-piece outfit that features a bold red-rose pattern printed on black taffeta. A pleated cropped shell with dainty cap sleeves tops her strapless dress with a bubble skirt. Long gloves, a black organza hat, silvery rhinestone and pearl drop earrings, a black clutch purse and black stiletto shoes make the evening outfit complete.
Body Type: Articulated Silkstone
Brand: Mattel Barbie Signature
Doll Designer: Robert Best
Customization: Painted fingernails
Facial Sculpt: Vintage Silkstone
Fashion: Floral pattern dress, gloves, hat, pantyhose, black stilettos
Accessories: Earrings, clutch
Label: Gold
MPN: FJH77
Original Price = USD $75.
Year: 2018
Leave a comment