Barbie Graduation Day Doll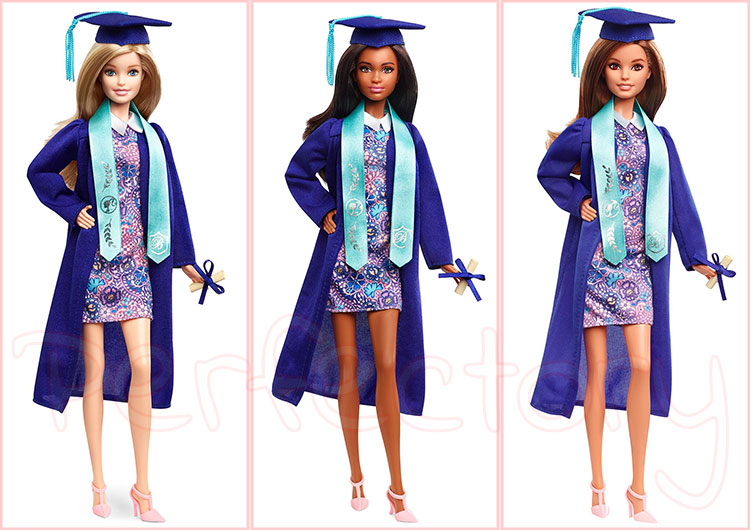 Getting Ready for Their Diplomas: Barbie Graduation Day Dolls!
Barbie Graduation Day Doll
Designer: Kelley Lindberg
Release Date: February 5, 2018
Springtime is just around the corner, and that means Graduation Day is coming for students around the world! Celebrate and commemorate this impressive achievement with a Barbie Graduation Day Doll, the latest in our series of special occasion dolls in keepsake packaging. This is the perfect gift to honor all the hard work and dedication that goes into fulfilling your dreams.
Congratulations graduates! You set your sights on your dreams and worked hard to earn them! This is just the beginning of the exciting adventure! What better way to commemorate this special graduation celebration than with this beautiful Graduation Day Barbie doll. She is wearing a royal blue graduation cap and gown with a collared floral dress. Additional details include a delicate tassel on the cap, a light blue graduation stole and a rolled up diploma. May your future sparkle brightly! Includes doll, doll stand and Certificate of Authenticity.
Three different dolls are available – blue-eyed blonde, brown-eyed brunette, and Black American.
Body Type: Model Muse
Brand: Mattel Barbie Signature
Doll Designer: Kelley Lindberg
Facial Sculpt: Millie
Fashion: Robe, Hat, Dress, Shoes
Accessories: Diploma, Graduation Stole
Original Price: USD $25.99 each
Year: 2018
Leave a comment