Barbie's Lawyer Represents Harvey Weinstein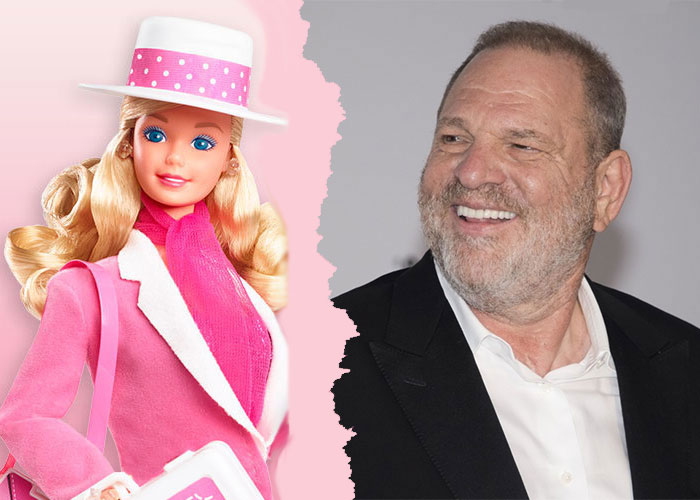 The woman who defended Barbie will now serve as counsel for a very different, but equally well-known figure: Harvey Weinstein.
According to court documents, Los Angeles based attorney Phyllis Kupferstein filed a motion to represent Weinstein in a New York class action lawsuit filed by attorney Cris Armenta for six women who claim Weinstein and his company "colluded together to perpetuate and conceal Weinstein's widespread sexual harassment and assaults."
It's an interesting disparity … Kupferstein's notable cases include representing none other than Barbie who, according to Mattel founder Ruth Handler, "always represented the fact that a woman has choices."
Back in 1999, Kupferstein defended Mattel in a massive class-action lawsuit that went on for over five years. Two doll collectors initiated the suit, which eventually settled out of court. They claimed Mattel deceptively advertised certain Barbie dolls as limited editions. Details of the lawsuit follow below.
MATTEL COMPANY: Plaintiffs Withdraw Illinois Barbie Collectors Lawsuit
—————————————————————-
Mattel Company and two doll collectors withdrew a massive six-year lawsuit over Barbie doll pricing that was pending in Madison County Circuit Court, The Madison County Record reports.
Previously, Judge Phillip Kardis had planned a June 30 hearing at his Granite City court on all pending motions in the case, however on June 17 attorneys told him to cancel the hearing. The attorneys told the judge that the parties had settled and stipulations would follow.
The protracted legal struggle, which generated a case file four feet thick, was brought by Madison County resident Pamela Cunningham and Cook County resident Reet Caldwell against Mattel in 1999. They were claiming that the toy maker deceptively advertised certain Barbie dolls as limited editions.
Court documents show that Ms. Cunningham was miffed because she bought a $40 doll from a Traveling Sisters set through an "exclusive" offer in a catalog, only to find another retailer selling the doll without the Traveling Sisters label. On another occasion she tried to buy Winter, which is the first doll in a Four Seasons series. Informed that Winter was no longer available, she ordered Spring for about $75, however she later claims that Mattel then contacted her and offered Winter to her.
She and Reet Caldwell alleged breach of contract and violation of the Illinois Consumer Fraud Act and thus sought certification as representatives of a class of Barbie buyers. Primarily, the case centered on the meaning of "limited edition."
As the case began, discovery disputes dragged on for three years with plaintiffs' attorney Martin Perron of St. Louis blaming Mattel for delays and moving for sanctions.
Defense attorney Phyllis Kupferstein of Los Angeles responded that the motion was "filled with lies." She wrote that Mattel produced thousands of pages of discovery.
In the ensuing court battle, St. Louis University marketing professor James Fisher, an expert for the plaintiffs, said in a deposition that customers generally understood that limited edition meant a product was produced in relatively small numbers.
Mattel attorney Diane Hutnyan of Los Angeles asked Mr. Fisher if 100,000 dolls was a relatively small number. Mr. Fisher said, "No." Ms. Hutnyan asked if 50,000 was a relatively small number. Fisher again said, "No." Ms. Hutnyan then asked if 30,000 was a relatively small number. Finally, Mr. Fisher said, "I think you are – you are trying – Well, I am not going to offer a precise number."
At a hearing in 2002, Mr. Perron told Judge Kardis that limited edition meant a relatively small number. Judge Kardis responded with, "Relative to what?" He thus dismissed the complaint, but he granted Mr. Perron leave to amend it.
Mr. Perron's amended complaint no longer relied on Illinois consumer fraud law, instead it was based on California's Unfair Competition Law.
In 2003, Judge Kardis certified the suit as a national class action under California law, ruling that Mattel's headquarters were in California, and that it sometimes sold directly to consumers from there. He also ruled that that California law required minimal proof of causation and injury and that even a true statement might violate California law. He also pointed out in his ruling that no defense under statute of limitations would apply.
By that time, however, California voters had begun to understand that their law might have caused great harm. A reform group, Californians to Stop Shakedown Lawsuits, argued that the law turned lawyers into bounty hunters. They placed an initiative on the November 2004 ballot to rewrite the law, which was recently passed.
Judge Kardis thus responded in January by decertifying the Barbie suit as a class action. His ruling meant that Ms. Cunningham and Ms. Caldwell could pursue their claims only as individuals. As individuals, they settled.
Leave a comment