Barbie Hello Kitty Doll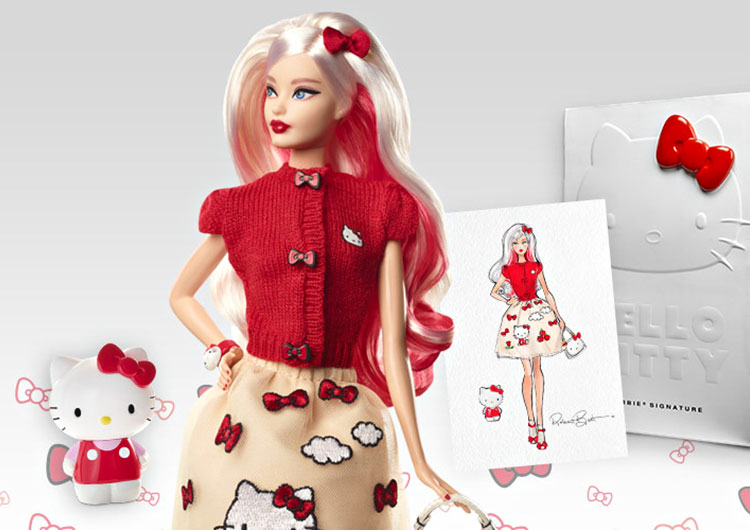 Barbie Hello Kitty Doll
Gold Label
Designer: Robert Best
Release Date: December 1, 2017
Get ready for the perfect friendship pairing! Barbie Senior Design Director Robert Best showcases the playful side of his haute couture stylings with the release of Barbie Hello Kitty Doll.
This collaboration captures the essences of both beloved icons, in a fashion inspired by Hello Kitty's signature red bow. Her red sweater features Hello Kitty's charming little face, with bow buttons down the front, and the embroidered bows on her skirt are the picture of sweetness. It's super cute and fashion forward!
No outfit would be complete without the accessories, and Barbie pays homage to Hello Kitty there, too. Her accessories include a Hello Kitty handbag and figurine, and she wears the signature red bow in her exquisitely styled hair. Even her ankle strap heels come with little red bows on top of the peep-toe openings. What with that streak of red dye on the underside of her hair, that lacy sock/red platform sandal footwear combo, and some covetable real-world Hello Kitty merchandise (hello, cardigan), this Hello Kitty Barbie manages to translate the iconic kitten-girl into a human woman with some positively chic results. (The whimsical embroidered appliques? So on trend.) Along with the cute handbag and mini figurine, Hello Kitty Barbie comes with a gorgeous collector's box.
Anyone can buy the Barbie Hello Kitty Doll at Barbie Signature, but Platinum and Gold Status members get an extra benefit: A high-quality illustration / sketch of the doll by Robert Best, suitable for framing and free with their orders.
The first doll collaboration between Barbie and Hello Kitty happened in 2007 and the last collaboration in 2008, so this new doll is a keepsake to treasure.
Doll Designer: Robert Best
Body Type: Model Muse
Facial sculpt: Lagerfeld
Fashion: Sweater, skirt
Accessories: Hello Kitty handbag, figurine
Label Tier: Gold Label – No more than 25,000 produced worldwide.
MPN: DWF58
Original Price: USD $100. – Currently Sold Out at Mattel and Perfectory
Year: 2017