Barbie Mrs. Who Doll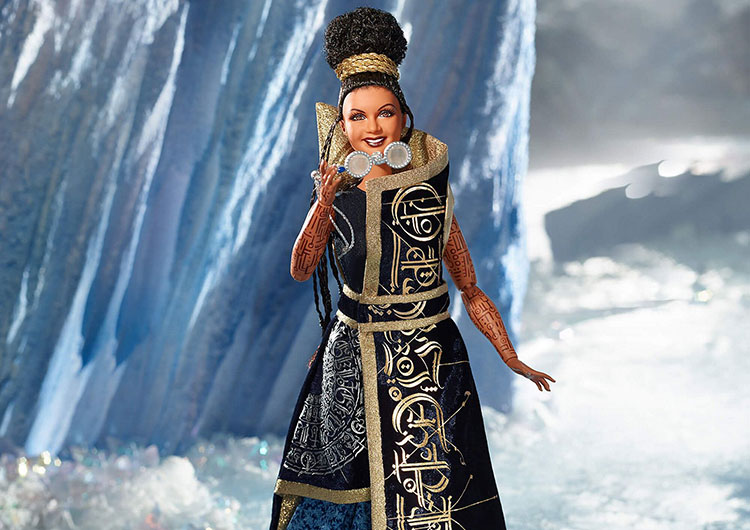 Barbie Mrs. Who Doll
Black Label
Designer: Carlyle Nuera
Release Date: 2018
In Disney's A Wrinkle in Time, Meg Murry embarks on an epic adventure across the universe to find her missing father. Traveling to worlds unknown as she fights against an evil force that threatens to cover the world in darkness, Meg has three celestial beings as her guides. Known as Mrs. Which, Mrs. Who, and Mrs. Whatsit, these three women are powerful warriors made of stardust, each with a special role in Meg's journey.
Mrs. Who is quite eccentric, using her diamond spectacles to see things otherwise hidden to the eye. Her costume features a deep sapphire blue velvet robe, lined in gold lamé and printed with gold foil glyphs. In the film, Mrs. Who uses her glasses for wisdom to help the main characters in their journey, so we made sure to include them since they're so important to her character.
The Mrs. Who doll also features a fully articulated body — perfect for posing. Includes doll stand and Certificate of Authenticity.
Ages: For the Adult Collector 14+
Body Type: Curvy Collector
Brand: Mattel Barbie Signature
Customization: Painted fingernails
Doll Designer: Carlyle Nuera
Facial Sculpt: Mrs. Who (Mindy Kaling)
Fashion: Robe, dress, glasses, shoes
Label: Black
MPN: FPW24
Original Price: USD $50.
Year: 2018
Leave a comment