Blush Fringed Gown Barbie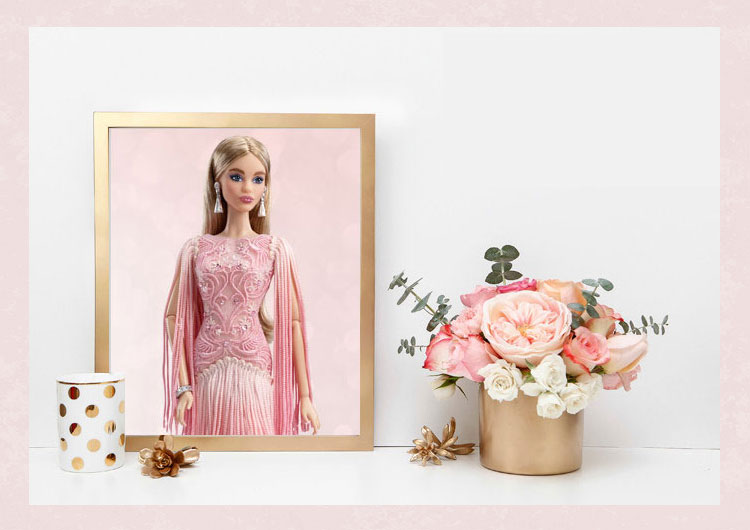 Blush Fringed Gown Barbie Doll
Platinum Label
Release Date: 08/16/2017
We are happy to note the début of a new collection of Barbie dolls wearing different shades of Barbie doll's signature colour, pink. This first doll in "The Pink Collection," wears a blush pink tulle gown featuring embroidered floral and bird motifs on the bodice. Layers of blush pink fringe follow for the sleeves and for the gown skirt. Exquisite accessories include silvery tassel earrings and bracelet. Sleek styled hair, makeup and painted nails complete the impeccable look. The doll features an articulated body, perfect for posing.
Blush Fringed Gown Barbie kicks off The Pink Collection, a new series for which Carlyle says, "I'd love for each subsequent doll to be dressed in a darker or more saturated pink."
Blush Fringed Gown Barbie is a Platinum Label doll, which means that no more than 1,000 of her will be available for sale.
"When I design a Barbie that's so limited, I try to make the doll as unique as possible, so that its specialness comes not only from its limited edition but also from its unique design," Carlyle says.
For Blush Fringed Gown Barbie, that uniqueness shines through from head to toe. "She uses the Claudette face sculpt in a skin tone that's never been done before for Claudette, and her makeup features a pop of blue winged eyeliner," Carlyle notes. "I also love the embroidery on her bodice: birds and flowers dotted with beads and crystals. And of course, the ombré pink fringe!"
Inspired by?
Twenties-inspired design from the Spring 2016 Givenchy Haute Couture collection by Riccardo Tisci. Also shown reworked for Cate Blanchett at the 2016 Golden Globe Awards in a sugary sweet pink shade. Très Barbie!
Doll Designer: Carlyle Nuera
Body Type: Articulated
Facial sculpt: Claudette
Fashion: Blush pink tulle gown featuring embroidered floral and bird motifs on the bodice
Accessories: Silvery tassel earrings and bracelet
Label Tier: Platinum Label
MPN: DWF52
Quantity Produced: no more than 1000
Original Price: USD $100.
Year: 2017