Day-to-Night Barbie Doll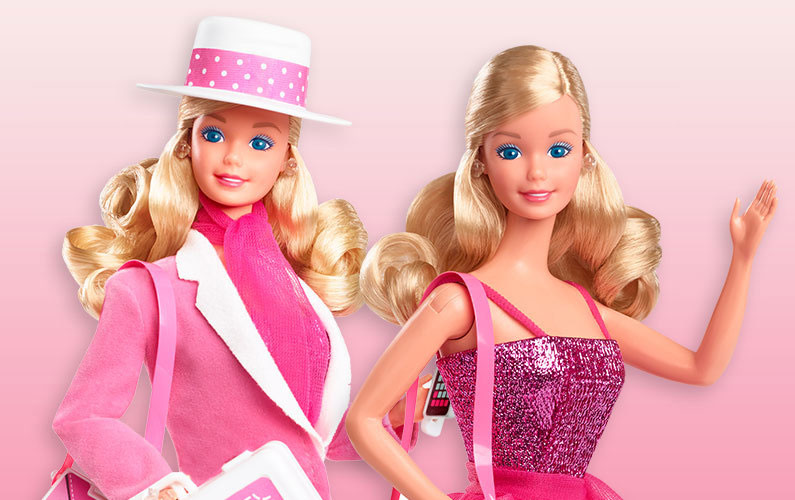 Day-to-Night Barbie Doll
Pink Label
Designer: Bill Greening
Release Date: 12/04/2017
She's back to inspire a new generation of leaders! Day-to-Night Barbie Doll was originally released in 1985, and now she's ready to change the world again as a vintage reproduction doll.
Surprisingly, Barbie Signature Principal Designer Bill Greening didn't have the original Day-to-Night Barbie Doll in his personal collection, but it should come as no surprise that he's pretty familiar with it. "I know she's a fan favorite," he says, "and she feels very iconic to the brand, too."
In designing her triumphant return to the workplace, Greening also benefited from an understanding of the history and the pop culture touch points of the women's workplace revolution, during which Day-to-Night Barbie originally debuted. "She was a business woman breaking the glass ceiling, so to speak, as showcased in films of the era like 9 to 5 and Working Girl. Plus, she's the first doll to really showcase fashion transformation – a theme still popular today."
Features of dolls from the vintage era aren't always the easiest to re-create, and that can present challenges for even the most seasoned designer. "The pink flocked fabric suit isn't made from a fabric we widely use today in the Barbie line," Greening explains, describing the soft pink power suit that transforms into a shirred skirt evening look. "We also had to make sure the fashion transformation was just as magical as the original." How did they manage to pull that off? Well, it wouldn't be as magical if we revealed the trick…
Of course, no Barbie doll – vintage, modern, or reproduction – is complete without a suite of fun and perfectly matched accessories. For Greening, her briefcase, calculator, spectator heels, and wide brim hat "are cues to signify she means business! I also love the Superstar face sculpt, and her bendable legs that 'click' when you bend them. It definitely takes me back to playing with Barbie in the 1980s."
Considering that dolls of the Superstar era have been in demand as vintage reproductions over the last few years (including Dream Date Barbie and Golden Dream Barbie), giving Day-to-Night Barbie the vintage reproduction treatment was a natural choice. If you missed her back in the 1980s, now's the perfect time to add her to your collection – or give her as an inspiring gift.
Doll Designer: Bill Greening
Body Type: Reproduction with bendable knees
Facial sculpt: Superstar
Fashion: Suit transforms into skirt
Accessories: Hat, briefcase, calculator, two pairs of shoes and purse
Label Tier: Pink
MPN: FJH73
Original Price: USD $29.99
Year: 2017