Ibtihaj Muhammad Barbie Doll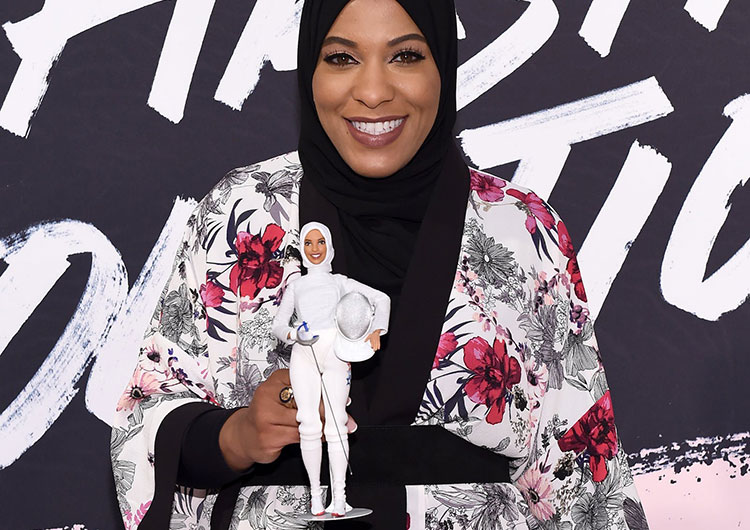 Ibtihaj Muhammad Barbie Doll
We are celebrating Ibtihaj Muhammad as the latest Barbie Shero by unveiling a one-of-a-kind doll in her likeness at the 2017 Glamour Women of the Year LIVE Summit. As an inspiration for countless little girls who never saw themselves represented in sports and culture, we hope this doll shows girls that anyone can reach their dreams. Available in 2018.
Growing up in New Jersey, the Olympic fencer Ibtihaj Muhammad used to fashion tiny hijabs out of tissues to wrap around the heads of her Barbie dolls so they'd look more like her and her sisters.
Now, Muhammad is the face of the first hijab-wearing Barbie doll. It's a feat she described on Monday, when Mattel unveiled the Ibtihaj Muhammad Barbie Doll, as "amazing."
"When I think about my own journey, me being a Muslim girl involved in the sport of fencing, there were people who made me feel like I didn't belong," said Muhammad, speaking at Glamour's Women of the Year summit, where Mattel unveiled the doll. "For all those people who didn't believe in me, this Barbie doll is for you."
U.S. Olympian fencer Ibtihaj Muhammad became the first hijab-wearing Barbie doll. Mattel unveiled the Ibtihaj Muhammad Barbie Doll on Monday, Nov. 13, 2017.
Muhammad became the first U.S. Olympian to compete while wearing the Islāmic head scarf during competitions in Rio de Janeiro last year, winning a bronze medal along with her teammates in the women's team sabre event.
The daughter of a police detective and a teacher, Muhammad grew up with four siblings in Maplewood and discovered fencing when she was 13 years old, winning medals and accolades until she qualified for the Olympics in 2016. A Duke University graduate, Muhammad has become a role model and an outspoken voice for Muslim women, challenging negative stereotypes and discrimination.
The Barbie, designed in her likeness, has full fencing gear, including mask and sabre, with sneakers on her feet and a hijab around her head. In her speech, Muhammad said she hoped the doll would inspire girls "to embrace what makes them unique."
"Today I'm proud to know that little girls who wear hijab and, just as powerfully, those who don't can play with a Barbie who chooses to wear a headscarf," she said. "She's a Barbie who is strong enough to wield a giant sabre and dedicated enough to spend years working her way to an Olympic medal."
The doll will be part of Barbie's "Shero" line, which includes iconic women like Gabby Douglas, Misty Copeland, and Trisha Yearwood, and will be available for purchase in 2018.
"Barbie is celebrating Ibtihaj not only for her accolades as an Olympian, but for embracing what makes her stand out," said Sejal Shah Miller, vice president of global marketing for Barbie. "Ibtihaj is an inspiration to countless girls who never saw themselves represented, and by honoring her story, we hope this doll reminds them that they can be and do anything."
"Shero" is a portmanteau of she and hero, referring to positive female role models.
Origin: The word portmanteau was first used in this sense by Lewis Carroll in the book Through the Looking-Glass (1871), in which Humpty Dumpty explains to Alice the coinage of the unusual words in "Jabberwocky".
Humpty Dumpty explains to Alice the practice of combining words in various ways:
You see it's like a portmanteau — there are two meanings packed up into one word.